TRAINING
---
We believe training is fundamental to us providing the highest standards of care.
Induction and Mandatory Training
The Jasmine team of trainers ensure that all new team members have an extensive in-house induction including one-to-one time with the Care Home Manager who will take the time to explain Jasmine's values and expectations.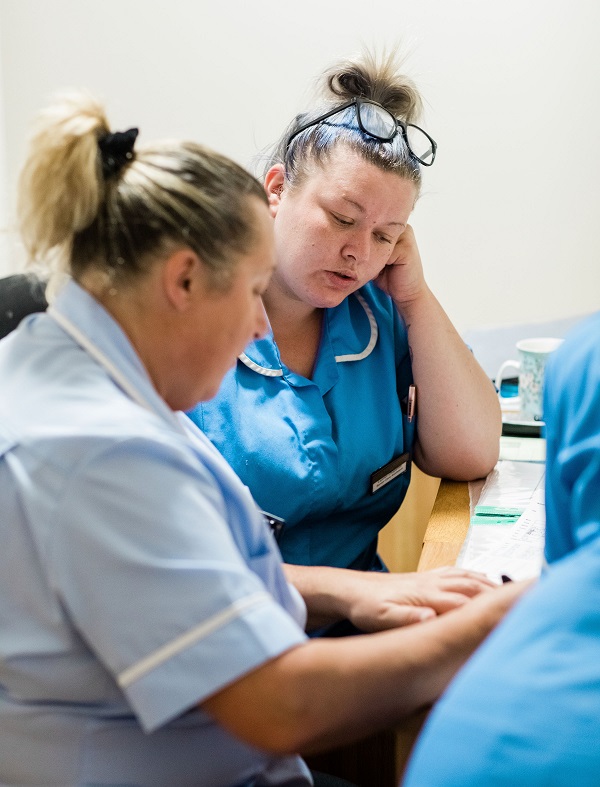 Our new team members shadow experienced members of the team until they are fully confident in their new job roles. In addition, unlike the norm in this industry, we will not sign-off a new team member's induction until they have completed all their mandatory training.
The mandatory training that all our staff undertake includes:
Safeguarding Vulnerable Adults training – The Care Quality Commission (CQC) defines safeguarding as the protection of people's well-being, health and human rights, allowing them to live safely without neglect, harm or abuse. This is something we take very seriously
Basic Emergency Aid training – To ensure all of our elderly residents have access to the best immediate care in the unlikely event of an accident or incident
Mental capacity training – To enable all staff to understand and manage the individual needs of our residents
Dementia training – To ensure all staff are equipped with increased awareness and knowledge of the types of dementia, so that they can better support our elderly residents and make their lives a little easier to manage each day
Fire Safety training – To ensure all residents can be evacuated quickly and safely in the event of a fire
Health & Safety training – To ensure each member of staff keeps themselves, their colleagues and our residents safe at all times
Moving & Handling training – To ensure our elderly residents can lead as full a life as possible with us, including all activities, should they need assistance to be moved
Infection Control training – This is vital when caring for elderly residents. We have very strict controls in place to minimise any infection spread and keep our residents and staff fit and healthy
COSHH training – To ensure any hazardous materials are safely handled with no danger to our residents or the team
Diversity & Equality Training
Food hygiene training – To ensure all food is prepared, cooked and handled hygienically
Diplomas in Care (NVQ's)

We aim for at least 60% of our team to have a nationally accredited Diploma in Care / NVQ qualification, specific to their job role. We encourage and support every member of our team, who does not already have this type of qualification, to undertake one. As well as being one of the few care home providers to fully fund the costs of these qualifications, we also financially reward our team members for achieving them. We pay a one-off incentive bonus for obtaining a relevant qualification and take these qualifications into account during pay reviews.
Specialist Training
Our dedicated Recruitment & Engagement Administrator also organises frequent specialist external training courses for our teams, to encourage their continued professional and personal development in areas of particular interest to them. We use a blended model of training, including e-learning, distance learning and face to face training, to provide this specialist training.
We believe a regular bespoke training programme for each member of our team is fundamental to providing exceptional care to our residents, as well as being an important way in which we achieve our mission of improving the standards of elderly care across our industry.
Leadership & Staff Engagement Training
Our Head Office are committed to delivering an ongoing leadership programme to continually develop our current and future leaders within Oxendon House. Consequently both our Home Manager and Deputy Managers attend regular off site Away Days, focusing on such things as:
How we can attract the best people to work at Oxendon House (Values based Recruitment);
How we can support and develop our team through meaningful supervision and appraisals;
How we can engage and motivate our team, to achieve the best outcomes for our residents; and
How we can provide even more meaningful activities for our residents.